G.A. Schimpff's Confectionery began in its present location on April 11, 1891. Started by Gus Schimpff Sr. and Jr., the business has survived wars, floods, depressions, and recessions through four generations.

The Schimpff family has been making candy in Jeffersonville since 1871 and in Louisville since the 1850's. The 1860 census shows various Schimpffs making candy on Preston Street in Louisville. Magdalene Schimpff, a widow, brought five of her eight children from Bavaria to settle in Louisville, where the eldest son had already settled. The two youngest children joined them after finishing elementary school in Germany. Magdalene and daughter, Augusta, went into the embroidery business while the sons went into the confectionery business.

Gustav Schimpff, Sr.
Gustav Jr. & wife Louisa

One son, Charles, decided to open a candy store across the Ohio River, in Jeffersonville, in 1871. He located at the corner of Spring and Chestnut and ran a very successful business there for nearly twenty years.

During that same period of time, another son, Gus Albert, was equally active in the candy-making trade in Louisville. In the late 1860s, Gus began working at C.G. Block & Co., a wholesale confectionery business, which, in 1871, became the Wurach & Bergreen Co. In 1877, Wurach sold out his interest in the company to employee, Gus Schimpff who thus became a proud part-owner. That company closed in 1889, and Gus began to work for one of the largest candy factories in Louisville, the Frank A. Menne Co .
In 1891, Charles Schimpff wrote to his brother Gus, in Louisville, that he thought the City of Jeffersonville needed a confectionery to replace the successful one that he had opened years before and decided to close. He suggested that Gus move to Indiana and start a candy store of his own.
Gus, wife, Catherine Huber Schimpff, and son, Gus Jr., took his advice, and, in 1891, rented a storefront at 347 Spring Street. The rent was $25.00 per month. A tin shop was located in the rear and the family lived upstairs. The two generations of family ran the business jointly until Gus Sr. died in 1918, leaving Gus Jr. and wife Louisa Weber Schimpff the primary owners. Their children, Wilbert (Wig), Christine, Weber, Catherine, and Charles helped with the business.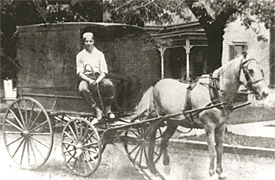 Wig with the delivery wagon.
In the 1940s, Catherine, Wig, and his son, Sonny, became the working partners. Wig was the candy maker and Catherine the manager and lunchroom cook.

In the 1950s, Sonny developed an area of the store as a hobby business, specializing in model trains and planes. His mother, Vivian, became the bookkeeper.

After Wig's death in 1952, Sonny took over as the candy maker and for forty years he and Aunt Catherine built a reputation known widely throughout Southern Indiana. Sonny's death in 1988 and Catherine's in 1989 forced another change in the ownership of Schimpff's Confectionery.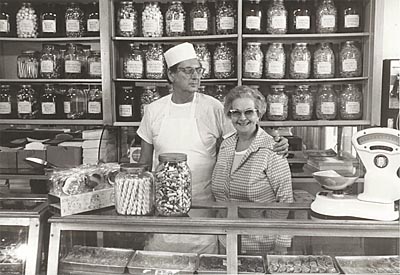 Sonny and Catherine
Warren and Jill Schimpff

In 1990, Warren Schimpff, one of Weber's sons, and his wife, Jill Wagner Schimpff, bought the candy business from Aunt Catherine's estate in order to be able to celebrate the centennial anniversary and to maintain the Schimpff family's candy legacy.

Under their leadership, the business expanded in 2001, the 110th anniversary of the business, into the building next door (351 Spring St), where a candy demonstration area was constructed along with a fascinating candy museum housing thousands of pieces of American candy memorabilia. Because of these new additions, Schimpff's has become a major tourist attraction in the Kentuckiana Area.

It has been listed in "Louisville Business First" as one of the area's top twenty for-profit attractions and national media such as The Food Network, The History Channel/"Modern Marvels", and Paula Deen have focused their attention on Schimpff's.