Gallopalooza Horse
Gallopalooza was a "Sidewalk Derby" event featuring 214 life-sized horses that were displayed throughout the Kentuckiana area in 2004 for the Kentucky Derby. Schimpff's Confectionery of Jeffersonville, Indiana sponsored a horse and thought it only natural to make their horse the sweetest one of all by decorating it with real candy from their 113 year-old store!

Schimpff's horse, Candy Dapple, was decorated with fourteen kinds of candy and painted to represent caramel dripping over a green Granny Smith apple. He sported licorice whip eye-lashes, Mexican Hat eyes, a Modjeska bridle, and a Gummi Worm smile. Fifteen pounds of sour Gummi Worms made up his tail and another fifteen pounds on the mane. Of course, Schimpff's famous Cinnamon Red Hots composed his winning blanket of roses!
Schimpff's Confectionery 2004 Gallopalooza Horse
Click on a section of the horse for a close up view.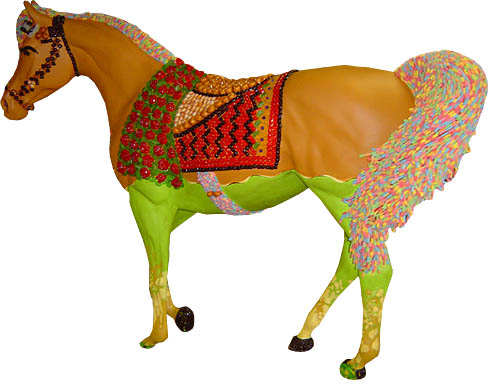 Artist, Jill Hedges, was the genius who created the candy designs. Her gallery, "Fine Arts of the Ohio" was located next to Schimpff's Confectionery so Candy Dapple resided on the sidewalk between both it's creator and its sponsor for the entire Sidewalk Derby.

The art horses of Gallopalooza were later auctioned off at Churchill Downs. Proceeds from Gallopalooza benefited the Brightside city-beautification program and charities that the horse sponsor choose. The start of the "Sidewalk Derby" was the Pegasus Parade which included 75 of the Gallopalooza horses. It is part of the festivities leading up to the Kentucky Derby on the first Saturday in May.