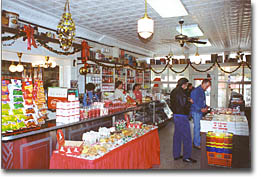 G.A. Schimpff's Confectionery is one of the oldest, continuously operated, family-owned candy businesses in the United States. It was opened in its present location in 1891 by Gustav Schimpff Sr. and Jr. (See History for more information.)
This unique confectionery and lunch room in Jeffersonville's downtown historic district comes complete with a 50's soda fountain and original tin ceiling. The old-fashioned candy jars, cases, and turn-of-the century equipment transport you back to the good old days of home-made candy and a real fountain drink.
Its Candy Museum and Candy Demonstration Area offer a glimpse into the world of historic candy making, packaging and advertising. Live candy-making demonstrations are frequently given. Tours are available and groups are asked to call in advance to schedule a FREE tour of the Candy Museum.
Schimpff's is famous for its cinnamon Red Hots, hard candy fish and Modjeskas. A more recent favorite is the chocolate, caramel, and pecan confection molded into the shape of a turtle. (See Local Candy and Candy Store for more information.)
Featured New Item!

Now available, our own limited edition Schimpff's Confectionery collectible Ginger Cottage.




$24.95
Add to Cart


We are so proud to join the other Ginger Cottages ie: Hansel & Gretel's Ginger Mint Company, Cracker Barrel, and of course Santa's Workshop. While our Ginger Cottage is only available through us you can check out all the different Ginger Cottages that are available at www.gingercottages.com

Our cottage shows the front of our Candy Store and Candy Kitchen and when you look through the candy store window you will see our Soda Fountain. Look through the Candy Kitchen window and yes, there are the current owners, Warren & Jill Schimpff pouring a batch of our famous Schimpff's Cinnamon Red Hots.



Order Form
Click here to view and print our mail/fax order form.

Buy Schimpff's Candy Online!
Select hard candies, chocolate, and gift shop items are now for sale on our Web site. Visit the CANDY STORE to buy select Schimpff's specialties.
*Please call for availability before placing online orders for items containing chocolate.
Orders containing chocolate may be delayed in shipping due to supply chain issues. Call (812) 283-8367 and ask for Mert, our Store Manager.
Lunch is served from 11:00 am - 3:00 pm M-F and 11:00 am - 2:00 pm Sat. and includes soup, sandwiches and homemade desserts. Schimpff's old-fashioned soda fountain serves traditional malts, milk shakes, sundaes, and sodas, as well as old-time favorites, such as cherry and chocolate Cokes.
| | |
| --- | --- |
| Schimpff's Confectionery has been serving southern Indiana and Northern Kentucky since 1858, and we welcome you to come visit us when you can. | |
---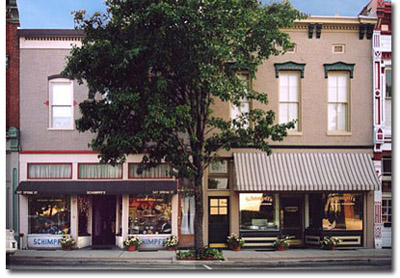 Schimpff's Confectionery and Schimpff's Candy Museum
M-Fri
10:00 am - 5:00 pm
Deli 11:00 am - 3:00 pm
Sat.
10:00 am - 5:00 pm
Deli 11:00 am - 2:00 pm
Sunday
Closed
Closed Dec. 24th at 3:00 pm - reopening Jan. 2 at 10:00 am
Closed Memorial Day, July 4th, Labor Day, and Thanksgiving Day
Please call for special holiday store and deli hours for the week before Valentine's Day, Easter and Christmas (Deli may close early or be closed).